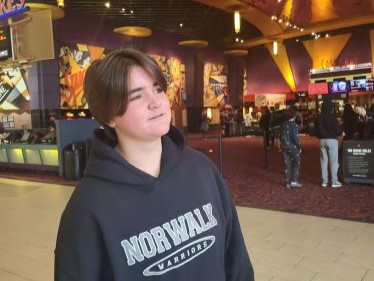 "Halloween," "Friday the 13th " and "Nightmare on Elm Street " were the most popular horror movies in 2022, according to a survey by Gitnux. Some students at NHS enjoy horror movies and have their favorites.
Freshman Gavin Phillips said his favorite horror movie is "IT".
"The plot is really good and the clown is a masterpiece," he said. He also said he enjoys horror movies that make you feel like the events could happen.
Phillips first started watching horror movies around four years ago, he said the movie that got him the most scared was "Texas Chainsaw Massacre" because it was based off of a true story and it could possibly happen to anyone.
Story continues below advertisement
Another student, sophomore Fahima Khalif, said her favorite horror movie was "Annabelle" because it had her favorite actress at the time and it was entertaining to see others in the movie not believing the character.
Sophomore Rylee Campbell said her favorite movie is either "The Shining" or "The Village". She said "The Village" is a favorite because she likes that it's almost a romance except that the guy immediately dies. She also said she really enjoys psychological horror.
"That is some terrifying stuff," she said. "It's scary but not really. It's scary because your brain makes you think it's scary."
She said that psychological horror is better because thrillers can be predictable and movies with obvious jump scares aren't as fun.
Several Norwalk students said they like a variety of different horror movies. Campbell said she likes to watch "Signs" and "A Haunting in Venice". While Phillips said he likes "Chucky" and Khalif said she likes "The Shining," Tim Burton movies, and Stephen King.
Khalif said The scariest movies she's watched have been "The Shining" and "Midsommar" because they were more psychological. However, she said "Silence of the Lambs" was creepy and unsettling too.
"Ever since I've had access to a TV, I was watching horror movies," she said.
Khalif said the best place to watch a horror movie is in a dark room by yourself or in a movie theater with friends. While Phillips said the best atmosphere is at night in the dark because it gives the vibes of horror.
Campbell also thought the best time for a horror movie is at night. However she said it needs to be weirdly quiet and in an apartment where someone is walking around upstairs, because that was how she watched "The Shining." She also likes to watch horror movies with a friend.
"Preferably a best friend who will make the experience significantly worse for you," she said.
Campbell said the scene that got her the most scared was from "Dr. Sleep". She described a scene where the main bad guys kill a person in order to get his shine which is like a power he has. Later the main character Danny and another person go looking for him and as they're digging they find a tuft of hair.
The first time Campbell watched a horror movie was as a kid, when she would find her dad watching them.
"He would watch horror movies," she said,  "we had this recliner, I would sneak downstairs and hide behind the recliner. My first experience with horror movies would be accidentally watching them and then being kind of interested."