Coming Out on Top
Maddux Borcherding-Johnson wins state as many other Norwalk wrestlers qualified.
Maddux Borcherding-Johnson (285) took the state title Saturday night, capping off an undefeated senior season. 
"It was just a real proud moment of my life just knowing all the hard work I put in that led me to that exact moment," Maddux said. "I just felt accomplished." 
Also on Saturday, junior Tyler Harper competed for the state title but ultimately fell short in a 7-10 decision. The highlight of the tournament for Tyler was his upset against the #4 wrestler in the country during the semifinal round.
"I didn't make it to state before; this was my first time." Tyler said. "I am proud of getting second place."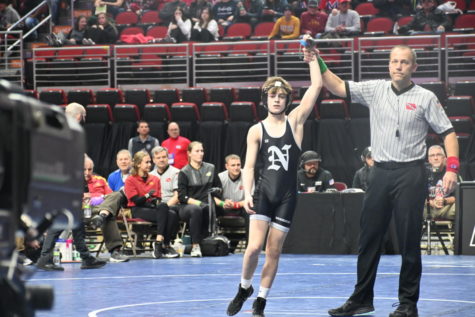 Other wrestlers who competed at the state tournament include Aiden Moret (120), Tate Turner (132), Donovan Card (138), Kadan Borcherding-Johnson (145), Dominic Tigner (152), Harrison Tripp (195), and Kolton Borcherding-Johnson (220).
Maddux Borcherding-Johnson won after placing 4th his freshman year and 3rd each of the last two years.
"Actually overcoming that obstacle and then coming out on top was just amazing," he said.
Maddux put in a lot of hard work and dedication to get where he is now, Norwalk Wrestling Coach Jake Brown said on Twitter.
"There was no better feeling than seeing him throw up his hands in triumph as a champion after all of the heartbreaking losses he took in the past!" Brown said.
Maddux and Donovan Card are the only state qualifiers from Norwalk who are graduating at the end of the year. Donovan finished his career as a three-time state qualifier and a two-time state place winner.
"He is the definition of putting your all into everything you do!" Brown said on Twitter.