AP Art Portfolio: Kaitlyn Baril
Just 12% of people identify as a cat person according to WebMD. Kaitlyn Baril is a cat person, and she decided to make it her AP Art portfolio focus.
Senior Kaitlyn is doing a portfolio on 3D design that focuses entirely on cats. The medium that she uses is clay because it's the one that she says she knows best.
"It's fun making art with your hands," Kaitlyn said.
One of Kaitlyn's main projects is a 16 inch vase that is shaped like a cat. It has so far taken over a week and a half worth of classes.
"It's been a long process, but I've learned a lot," Kaitlyn said.
She said that the medium, although fun, can be extremely difficult to work with at times and it requires a lot of patience and planning. She also said that the head was the most difficult part because it required a lot of playing with to make sure that it would stay on correctly and to make sure that it looked good.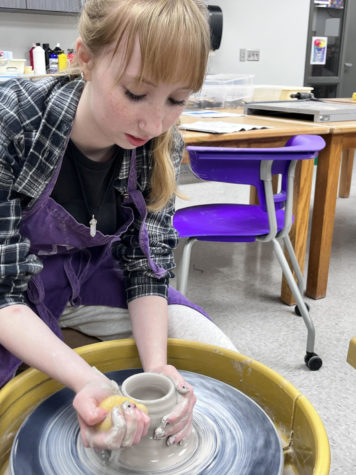 "I remembered how difficult clay can be," Kaitlyn said.
In the future, she's thinking about making more useful cat pieces, like pots and mugs. She has also been creating little sculptures of cats to add to her portfolio.
Kaitlyn said that she chose to do cats in order to avoid thinking of something deeper and more emotional topics and to ignore the uncertainty of the future.
Angela Davidson, AP Art teacher, said that she loves the style of the cat vase.
"I love the Egyptian influence," Davidson said.
She said that AP portfolios don't have much structure and allow for students to do what they want to as long as they follow the limited guidelines for the portfolios.
"It's pretty open for students to do what's interesting to them," Davidson said.