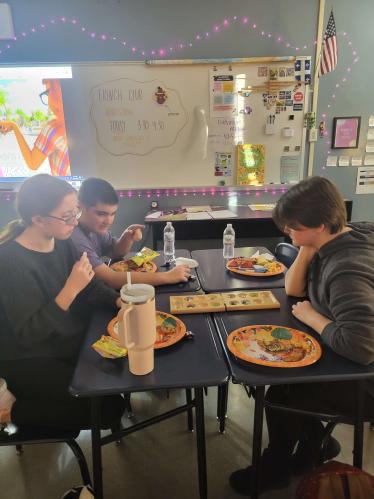 Thanksgiving is coming up on Nov. 23 and for several students at NHS Thanksgiving is a holiday to celebrate with family and enjoy good food.
Sophomore Ash Shelledy said they spend Thanksgiving with their grandparents, cousins, aunt and uncle, and their mom and brother at their grandparents' house.
Story continues below advertisement
"My grandpa cooks and I get to hang out with my cousins," Shelledy said. They said they have turkey, ham, bread rolls, and applesauce.
Sophomore Chloe Lynn said she spends Thanksgiving with her siblings, and her parents. While 8th grader Colin Campbell said he spends Thanksgiving with his mom, dad, grandparents, and uncle.
Sophomore Lydia Reeves said that she spends Thanksgiving with her family at her house and usually watches the Thanksgiving parade. She said her family has turkey, sometimes other meats, stuffing, mac and cheese, and other main sides.
Sophomore Johnathen Dunlap said he goes to Colorado for Thanksgiving because it's where he used to live and his family's there. He said his family has turkey, stuffing, green bean casserole, and pumpkin pie for Thanksgiving. He spends Thanksgiving with his parents and siblings.
Over Thanksgiving break some students like to relax and spend some time away from their busy lives.
Dunlap said he likes to relax and catch up on errands while Lynn said she likes to sleep in. Shelledy said they usually hang out at home and Reeves said the time off is very nice.
Colin said that he likes Thanksgiving and that it's fun and interesting.
"I play video games, I go to my grandma's house for Thanksgiving, and usually go to a hockey game," Campbell said.