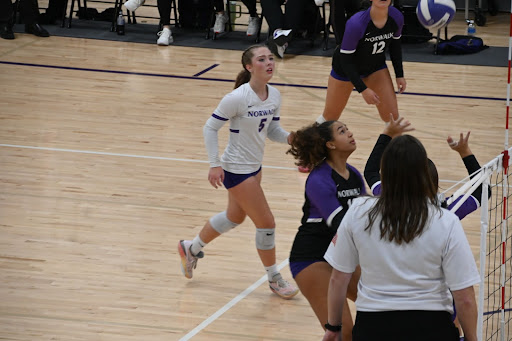 The Norwalk Volleyball Team is competing tonight in the regional final at 7 p.m. at North Polk High School in Alleman. If they win this game, they will compete at state for the first time in program history. 
Norwalk is ranked 8th in 4A competition and second in the Little Hawkeye Conference with a record of 25-15. 
Noelle Sutcliffe has broken multiple school records this season. One of those records is a school record in most kills.
"We are pretty confident, but I don't think the teams are gonna give us the wins," said Sutcliffe, who is one of the captains the Norwalk Volleyball Team. "We work hard at practice to try to find which rotation works best for us and hopefully beat teams like North Polk and Carlisle." 
Ava Johnson is a senior on the team who has had multiple 3+ kill games and has been a big factor of the team since day one due to her leadership role.  
Story continues below advertisement
"Definitely getting older going from freshman to senior year has helped improve my leadership role," Johnson said. "Also, keeping the younger girls' attitudes in check to keep them doing what they need to do to help the team and not to just think of themselves." 
Head coach John Fulton led his team to the playoffs last year and now is coaching his second year on the team. He said recently that the team is going to focus on its strengths heading into the postseason.
" We've played the hardest schedule in 4A," Fulton said. "That competition is going to help us in the last 3 weeks and in postseason play. At this point it's time to figure out what our strengths are and keep working on those because everybody in the postseason is gonna be good. So we have to execute our strengths better than they execute theirs."
The Iowa Girls High School State Tournament will take place  Oct. 30-Nov. 2 at Xtream Arena in Coralville.